Esther Omikunle, popularly called Esthitude, is a goal-oriented lady who is passionate about intentional and wholesome living. She is a software developer and lifestyle blogger, a graduate of Obafemi Awolowo University where she studied Computer Engineering. She is also a graduate of Basic Leadership and Entrepreneurship Course from the Leading Ladies Business Institute.
She is a focused and experienced software developer with 3 years of progressive experience in software development (working across the IT, FinTech and Financial Services field) focused on building web applications and web services, proficient in all phases of the software development life cycle; adept at working with Agile and Scrum methodologies to accomplish project milestones according to specific time frames.
She is a highly organized and detail-oriented professional, a business processes enthusiast, an optimistic problem solver with great communications skills, quick to learn and adaptive to new environments.
She is a lifestyle blogger and content creator extraordinaire. The Chief Editor of The Esthitude Place, a faith and lifestyle blog ( this blog, smiles).
She is an advocate of intentional, exceptional and wholesome living who loves meeting new people, adventure and exploring, attending great events, listening to good music, reading. She daily aims to become a better version of herself.
Due to her ability to set goals and prioritize her tasks, she is able to combine her job as a Digital Banking Developer in one of the foremost indigenous banks in Nigeria with managing her social enterprise and NGO to ensure a smooth running of her brands.
She is a professional volunteer and a wholesome living advocate who is passionate about developing human capacity, building sustainable brands/businesses and empowering people to live wholesome lives; this she achieves by leveraging different platforms such as her blog, The Esthitude Place ; her lifestyle empowerment platform, Mivida Enterprise , and her NGO, Life's Beacon Initiative .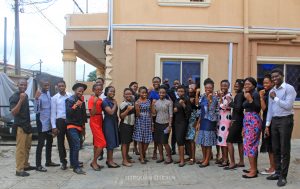 She currently runs a social enterprise, Mivida, which is focused on helping young adults (between the ages of 18 and 45) find clarity in life and empowering them to live a happy, healthy and wealthy life through the several events she organizes like the Goal Setting Masterclass, Vision Board Workshop, Mivida Beach Hangout and several others.
With her team members at Mivida, she has been able to organize events targeted at young adults, that has affected hundreds of young adults, helping them get clarity and do more with their lives. Her brand, Mivida, is set to launch it's Book Club for young leaders in April 2019.
Through her blog, The Esthitude Place, she inspires thousands of readers around the globe to wholesome living through a variety of posts.
She is also the founder of Life's Beacon Initiative, an NGO that works on improving Africa's economy leveraging selfless service initiatives. At Life's Beacon Initiative, her goal is to empower people and in turn improve Africa's economy through selfless service initiatives.
Life's Beacon main projects are The Outliers Volunteering Program and Operation Reach Out and Help (OPROAH).
The Outliers Volunteering Organization is a platform that groom and connects willing volunteers with available volunteering opportunities and it currently runs in over 5 states in Nigeria with about 200 volunteers in the network where they can gain skills, serve, and grow.
Through the outreach arm, OPROAH, she organized a food relief and skill acquisition training to an orphanage home in Ogun State, Nigeria in April 2018. She has also partnered with several NGOs to organize relief programs, training and awareness programs.
Her long term goals are to build, manage and consult for sustainable businesses and brands in the world while impacting and affecting lives on a global level.
You can connect with Esther on Instagram, Facebook and Linkedin.